Home » Our Pizza » Spicy Frozen Pizza 390 gr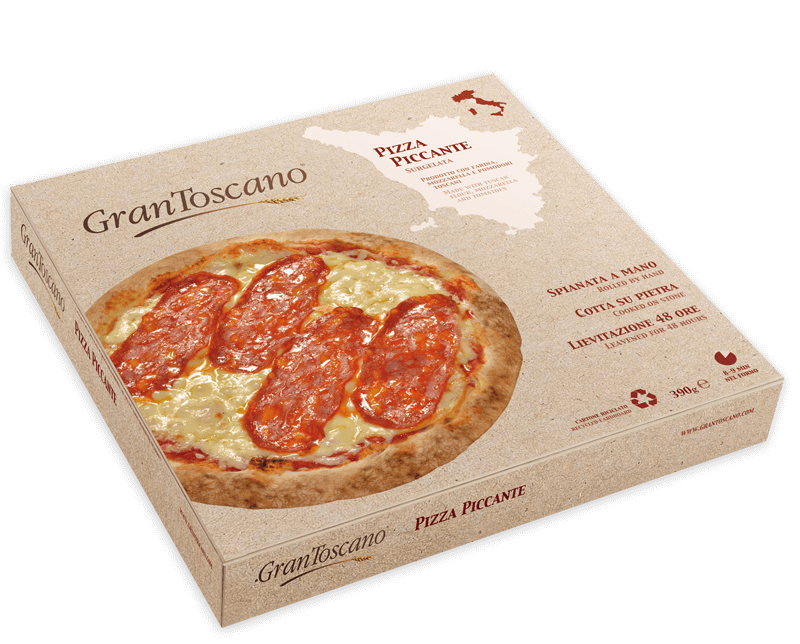 Spicy Frozen Pizza 390 gr
FROZEN PRODUCT
390g
PACKAGE 1 PIZZA

Product obtained from a dough manually stretched and stuffed with tomato puree. After quick cooking, the product is stuffed with mozzarella, spicy salami and provola and frozen at -18 ° C. The pizza packaged individually with neutral film.
METHOD OF USE

TO BE CONSUMED AFTER COOKING
Quick and easy, goes in the preheated oven at 180/200° C for 8-9 minutes.
No in the microwave, yes in the combined microwave
INGREDIENTS
Soft WHEAT flour type 0 Tuscany – Water – tomato puree Tuscany – smoked provola cheese (MILK, lactic ferments, salt, rennet) 15.3% – mozzarella (MILK, salt, rennet, lactic ferments) 10.2% – Calabrian flattened salami (meat pork, salt, natural flavors, skimmed MILK powder, dextrose, fructose, antioxidant sodium ascorbate, potassium nitrate-potassium nitrite preservative) 8.9% – Extra virgin olive oil – Salt – Brewer's yeast – malted WHEAT flour – Origan